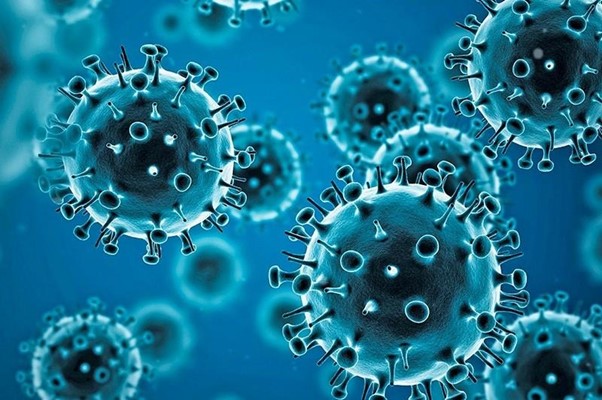 Keeping your business premises germ and virus free is essential during the Covid-19 pandemic.
GRIME AWAY SERVICES
can help with our special Covid-19 Deep Cleaning and Fogging services. Using the very latest cleaning methods and products, we have created a thorough cleaning strategy that will ensure your whole workplace is fully sanitised. Our specialised cleaning equipment and PPE allows us to clean your premises to the very highest standard with the least amount of disruption.
Covid-19 Fogging
Our powerful steam fogging machines are able to sanitise and disinfect vast areas quickly without missing any surfaces. We use the very latest high-tech. BarrierTech Surface Sanitiser It is proven to be effective against Covid-19  as well as effective against a broad spectrum of other viruses. When in operation, our fogging machines produce large volumes of fine mist which lands on both hard and soft surfaces without causing any harm. This method ensures that every area of your premises is reached, and every surface is properly sanitised. This means that our fogging process can keep your business disinfected and virus free.

The BarrierTech fogging machine will handle all decontamination/treatment sites with ease.
Ideal for full coverage for office, restaurants/food services, schools, care homes, and commercial properties, and more.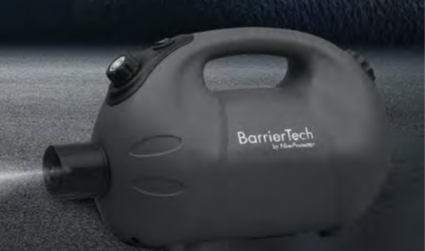 BarrierTech Hard Surface Sanitiser
kills and gives an effective lasting protection against bacteria, virus, fungus, mould, and algae. Contagious viruses will be inactivated by treatment.
BarrierTech Surface Sanitiser; unlike most other surface disinfectants is alcohol free, gentle on all types of surfaces and has a long residual effect.
BarrierTech Surface Sanitiser active ingredient is on the lists, recommended by WHO, ISID, FDA, IATA, Public Health Agency to fight Covid-19.
BarrierTech Sanitiser - it has been proven that the ingredients are highly effective in killing bacteria and inactivating viruses.
Against most bacteria, BarrierTech has a mortality rate of 99.999%. Documented by accredited laboratories.
Based on an innovative mix of quaternary ammonium compounds with a "back-bone" on a food grade polymer that ensures a long-lasting effect.
Very safe during use and non-corrosive to skin.
BarrierTech will be active on the surface for more than a week.

WoolSafe & Cleanseal Approved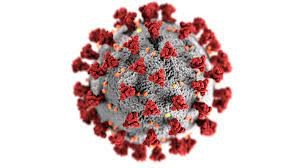 BarrierTech Sanitiser
is suitable for use in private homes, institutions, industrial kitchens, food processing areas etc; basically, anywhere there is a need to fight and prevent pathogens like bacteria, virus, fungus, mould, or algae.
Food preparation and storage areas.
Dishes, glassware, silverware, cooking utensils, plastic and other non-porous cutting boards, coolers, ice chests, refrigerator bins used for meat, vegetables, and eggs. Tupperware.
Kitchen equipment such as food processors, blenders, cutlery, and other utensils.
Countertops, Drink dispensing machines, stovetops, sinks, appliances, refrigerators, ice machines.
Glass, metal, stainless steel, glazed porcelain, glazed ceramic, fibreglass, granite, marble, plastic, chrome, and vinyl.
Enamelled surfaces, painted woodwork, Formica? vinyl and plastic and fabric upholstery.
Tables, chairs, desks, bed frames, lifts, washable walls, cabinets, doorknobs, and garbage cans.
Exhaust fans, refrigerated storage and display equipment, coils, and drain pans of air conditioning and refrigeration equipment and heat pumps.
Large inflatable non-porous plastic and rubber structures: animals, promotional items, moonwalk, slides, obstacle course play and exercise equipment.
Citrus processing equipment and holding tanks.
Picnic tables and outdoor furniture.
Drinking fountains.
Shower stalls, shower doors and curtains, bathtubs and glazed tiles, chrome plated intakes, toilets, toilet bowl surfaces, urinals, portable toilets, porcelain tile and restroom fixtures.
Kennels kennel runs, cages floors, conductive flooring.
Also active on soft materials such as textiles, carpets, and leather.
When fogging has taken place, the location fogged needs to be empty of personnel for at least one hour.
Contact us today for a competitive quote